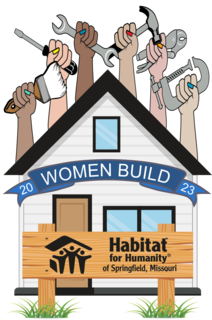 2023 Women Build – by Habitat for Humanity
In 1991 a group of women in Charlotte, N.C., completed the first women-built Habitat for Humanity house. From this grassroots event, the seeds for Habitat for Humanity's Women Build program were planted. Since then, the Women Build program has continued to grow across international borders, empowering women everywhere to address poverty housing for themselves, their families, and their neighbors.
We're getting things going this year with a kickoff luncheon on February 14 from 11:30 am to 1:00 pm at The Knights of Columbus located at 2340 Grand Street, Springfield, MO 65802, then moving over to the build site one mile away at 1327 W Catalpa to kick off the build itself. Ticket sales end on February 8.
Over the next several months volunteers throughout the community will come together to build a home for a local family in need of affordable housing. We will be teaching new skills, providing teamwork, and allyship, while building an entire home through this rewarding experience for all involved to improve the community in which you live. Women Build is a terrific way to serve others in crucial work with a lasting impact.
Come with a group or come alone, either way, you will make new friends and hone skills as you work alongside other volunteers, our homeowner partners, and our Habitat Construction Coordinator, Shannon Calton, to build strength and stability through shelter.
Click here to learn more or register online!