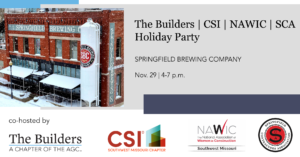 Celebrate the holidays with The Builders, CSI Southwest Missouri chapter, and the NAWIC Southwest Missouri chapter, and the Springfield Contractors Association.
Join us for appetizers, drinks & craft beer as we celebrate another year of advancing the industry. There's no charge for this event, but you must register to provide counts for food and beverages. We will be collecting toys for Toys for Tots, so feel free to bring a small toy for children in need to drop in the collection box.
Wednesday, November, 29th, 2024
4:00pm -7:00pm
Springfield Brewing Company
305 S. Market Ave.  Springfield, MO 65806
Online registration is available here! Make sure you select all of the associations you are a part of – including NAWIC SWMO 366!